Rouge Bunny Rouge Glassy Gloss
Fleur Parfait
is probably the prettiest mauve pink I have encountered.
However, I didn't fall in love with it immediately. I even sent it to my
Blog Sale
page for a while.
It is because of its rich creamy texture and great color payoffs (yes, all the great qualities!).
Sounds weird, right?
I guess I was looking for something sheer with lighter feel back then cause the weather was much warmer when I purchased it.
Time flies and I am rediscovering this lip gloss all over again as the autumn deepens around us.
Fickle you may say, but I have retrieved it from the sale pile and now I think this is the most gorgeous thing ever. ;)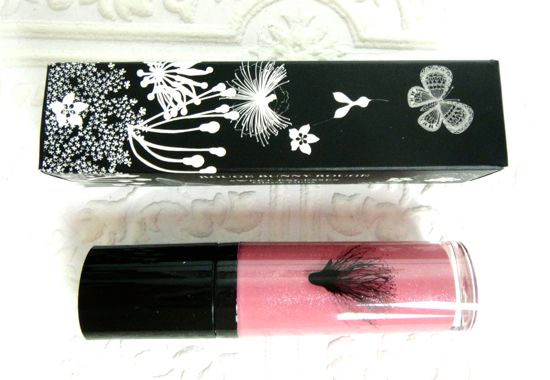 Rouge Bunny Rouge "Sweet Excesses" Glassy Gloss in Fleur Parfait
(All Rouge Bunny Rouge products have some sort of "secondary" names. Why is that? I want to know.)
I must say all the descriptions on Rouge Bunny Rouge are amazing.
How can one resist after reading all this?
Sweet Excesses Glassy Gloss
'Mistral' showcases the dessert-like Glassy Glosses in five new scrumptious colors (Raspberry Meringue, Rahat Lokum, Rhubarb Custard, Cherry Clafoutis and Mousse Fandango). The ultra glossy formula combines a non-sticky finish with intense moisturizing properties that have an immediate effect on dry skin.

These candy drops of color are heaped with exotic ingredients, and some abound with minute pearlized particles to make your lips sparkle with glittering bejewelled effects. Rose Seed Extract smoothes away fine lines, rejuvenates and retains lost natural color and skin tone while Vitamin E works as an anti-oxidant.
This lip gloss comes in a sturdy oval shaped glass container with a doe foot applicator.
It is adorned with a beautiful tassel looking(?) black flower thingy.
So pretty!
I also think their color description is rather precise.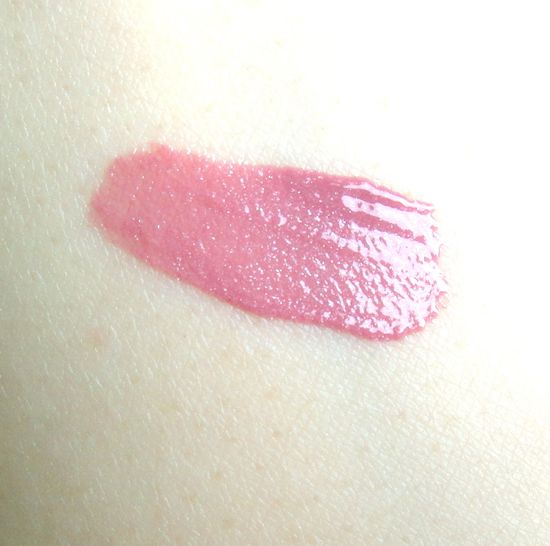 Rouge Bunny Rouge describes Fleur Parfait as
"Cushion-y soft semi-opaque mauve pink, with subtle silver highlights".
Right on.
Here are a couple of lip swatch pictures taken under different lightings.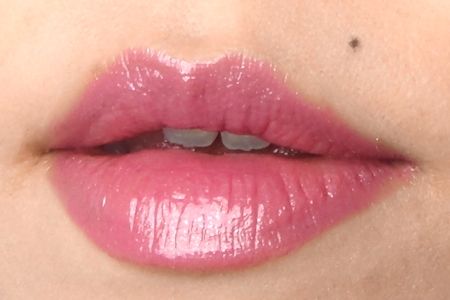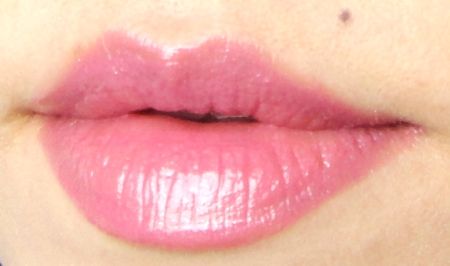 This "Glassy Gloss" name reminds me of the MAC lipglass, but unlike the MAC, RBR Glassy Gloss is not sticky at all.
It rather applies like lip cream or liquid lipstick if you ask me.
Revlon ColorBurst Lip gloss would be comparable in terms of texture.
This lip gloss has a faint scent that I can't quite pinpoint what it is, but it doesn't bother me.
My lips feel moisturized and pampered wearing this.
It lasts fairly well on me (about 3 hrs with light eating/drinking and talking) and fades away naturally, too.
The only thing I am not so happy about is, of course, the $25 price tag.
It is made with high quality ingredients plus it wears and feels great, but I still find it steep for me to want to build a collection of this range.
However, this lip gloss got me interested in the other lippie ranges Rouge Bunny Rouge offers.
A couple of overall looks with Fleur Parfait
(This is a rare occasion that I am NOT wearing smokey eyes. I look sleepy like this but I just want a break sometimes..)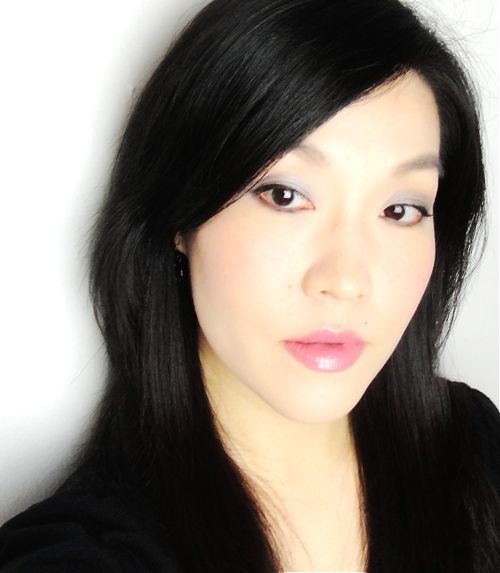 Thanks for looking.
Have you tried Rouge Bunny Rouge lip products?
Do you have any rec for must-have colors? :)