I was fortunate to be given an opportunity to try a couple of core products from the skincare range of obiqo.
I did not know much about the brand since it is from New Zealand, but I was intrigued to try this range after reading about the brand and the concept behind it.
Intensive Facial Serum
and
Restoring Night Cream
were my choice (it was very considerate of them to let me pick the products, btw.) since I usually like no-fuss skincare items and facial serum and night time moisturizer are very easy to incorporate into my daily regimen.
obiqo skincare
Obiqo is a luxurious sea-inspired skincare range that combines nutrient-rich sea kelp from New Zealand's pristine waters and the powerful anti-oxidant properties of French organic sea lavender.
Obiqo's range of marine-derived skin care products provide a touch of luxury at an affordable price. A protected natural resource and the star of Obiqo's unique skincare line is New Zealand sea kelp, which is harvested under license and then blended with proprietary formulations of sweet herbs, natural flora extracts, essential oils and sea lavender to provide a rich sensory experience. Obiqo products are not only great for your skin, they're sensational for your soul. All the marine extracts used in these products are derived from sustainable sources and the methods of extraction are natural, gentle and solvent-free.
*My initial thoughts*
First of all, I was very impressed to see the clean luxurious packaging. It definitely has a high-end skincare quality.
(Hey, call me vain, but I want pretty things on my vanity ; ah, hence the name "vanity".)
Then I was even more impressed with the reasonable pricing on them.
(You see, I am also being sensible.)
Glancing the ingredient lists (although I am not an expert), they are packed with great natural ones that are known to be gentle and nourishing.
*Intensive Facial Serum*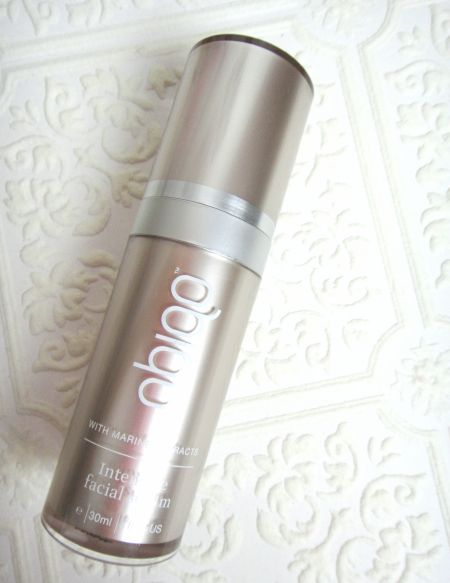 I am always on a look out for good anti-oxidant serum that I can wear in the morning.
I believe this is designed to be worn alone or under moisturizer anytime of day to get faster results, though.
I use this in the morning under my sunscreen (aiming for the synergy of a stable sunscreen and anti-oxidants) and my combination skin does not really require additional moisturizer.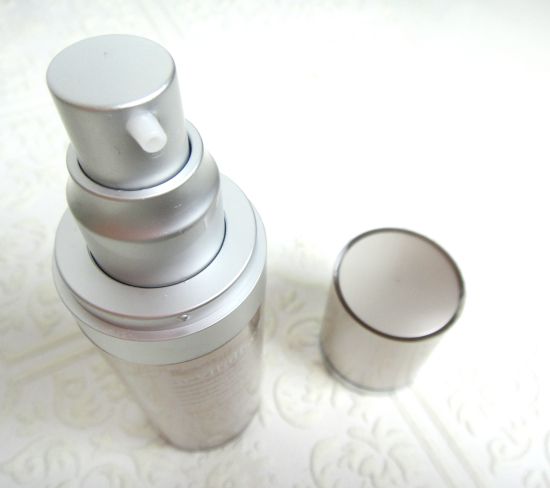 The serum comes in an air tight dispenser.
One pumping is enough for my whole face, and I use another one for my neck.
(People say a woman's neck doesn't lie about her age, but I want mine to lie for me, so...)
The serum is rather thin and milky.
It absorbes quickly and dries to a velvety finish.
My skin feels hydrated yet tighter (not in the sense of dryness, but more like firming) when I use it.
It does not ball up reacting from my sunscreen, which gets another plus point from me.
It is fragrance free as well.
Here is the ingredient list.
(Thank God for cameras. I will never have to type them again!)
*Restoring Night Cream*
Yes, it comes in a jar.
I know not many of us are crazy about the jar containers but personally I don't really mind it.
At least, it makes sense if you see the dense texture of the cream.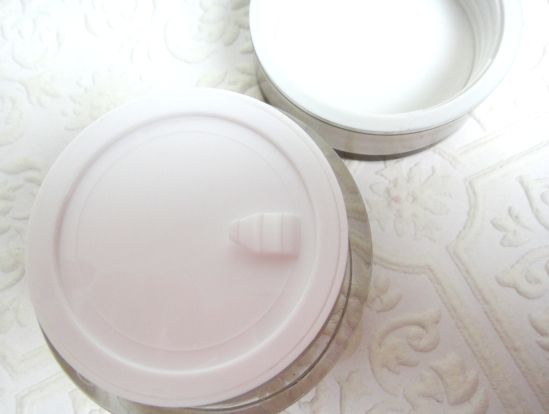 There is another lid inside.
The cream is very dense yet cushion-y, it feels quite luxurious to touch.
Unlike the serum, this is lightly fragranced with some oceanic scent.
It is suitable for normal/dry skin types but it still works wonderfully on my combination/aging skin.
I could probably live without the fragrance since it is not the kind I am usually into, but it is very light I don't think anybody would be put off by it.
What I like the most is that my skin feels deeply nourished with this cream.
It is quite rich but never greasy, and the cream quickly melts into my skin.
I also use generous amount of this cream on my neck at night time (again, the neck-age-lie thing) and it feels great on.
Here is the ingredient list for the cream.
(Sorry it came out so crooked!)
I have been using them for a little over two weeks now, and my experience has been very positive.
I would have to use them for a little longer to see the claimed results but I can already feel the gentle and nourishing benefits from them.
They did not cause any adverse effect like unusual breakouts, either.
I would benefit more especially from the night cream since the climate is changing and I always need something richer during the colder months.
Obiqo also offers body care products besides the skincare range which pretty much covers the essentials.
If you're interested, obiqo products can be purchased
HERE
.
I was offered with a discount code (3QJ8LTV2) for my readers to get additional 20% off on a purchase of 3 or more items.
(This code is good until the end of 2013, fyi.)
Thanks for reading.
Have you tried obiqo?
What is your experience with marine based skincare products, if any?
These products were provided by PR for obiqo skincare for review purposes.