Nudy series is one of the classics from GEO and famous for its striking effects.
I remember being curious about Nudy and even considered purchasing it, but I guess I passed on while I was developing my
circle lens
preference leaning towards more natural looking ones.
When I was offered to try some of their products from
AngelContacts
, I was happy to see this particular design thinking this would be perfect for my halloween this year.
Sidetracked as usual, I must tell you I have never dressed up for the halloween, ever.
I lived in South Korea until I graduated from the university, and we didn't celebrate this holiday back then. (Now I heard little kids dress up and go getting candies in Korea, too.)
Or being a performance major, I have had many opportunities to wear costumes and wigs so maybe I didn't really feel the need to do so on another occasion.
GEO Nudy Grey
is kinda perfect for me to still get into the holiday spirit since it comes with tons of dramas without having to scare anyone.
(Speaking of halloween, I've just noticed
AngelContacts
is having a sale. You can get 10% off with the code "
BOO
". They also offer
special FX lenses
.)
GEO Nudy Grey
The communication was very clear and courteous (trust me, I have dropped a PR offer because of the unclear communication not that I have many to choose from.), and their service is always prompt.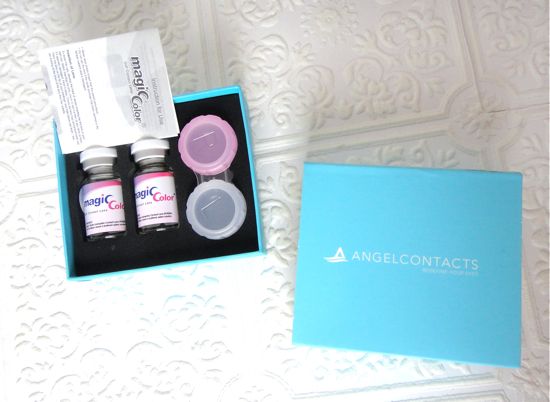 All products come in the neat Tiffany blue colored boxes.
Lens vials and case are secured in molded foam interior, which minimizes the occasional transit accidents.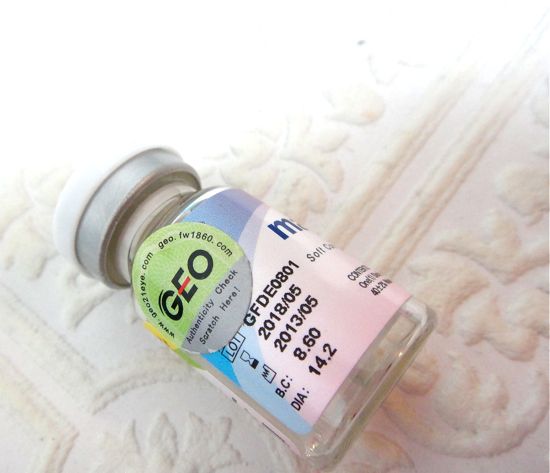 The vial comes with GEO authenticity seal on.
Closeup on the vial
It is a sort of twist from the classic pixel designs.
The limbal rings are not as stark and inner ring is also modified with softer zigzags.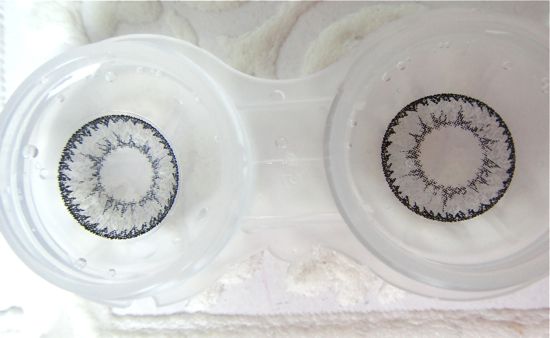 Another look from the lens case.
You can also see the sheer light grey designs between the rings.
Very delicate and it brings the faceted effect when worn.
I knew it for sure this would require more dramatic makeup pairings, but I wanted to see them with minimal makeup.

Not very good, right? (I want you to be honest. Come on.)
I don't feel comfortable showing this to you, but here you can see the light and delicate patterns very clearly.
Plus my lashes look kinda nice in this picture. ;)
For a 14.2 mm sized model, this one has quite an enlarging effect.
I find duo-toned designs look bigger than tri-toned ones in general, and the signature halo effect of Nudy series makes your pupils look even bigger.
Don't be discouraged by the previous picture.
After a little bit of amps on makeup with the help of a very natural looking pair of mink lashes (here I am wearing
Little Black Lash
from
ESQIDO mink Lashes
), it looks much better.
Ta-Da
It is dramatic all right, but only to the extent that my real life can embrace.
From afar, it even looks natural.
Would I wear this more than once in a week?
Probably not. Maybe if I learn to apply falsies in two minutes.
I would prefer the Fresh series for my daily look, but this one certainly gets the well-deserved love from me.
(Another worthy note is that all the GEO contacts I received from
AngelContacts
feel incredibly comfortable.
Some of you remember how I ranted about the comfort level of the GEO lenses I've tried in the past.
No offense, but now I seriously suspect those were not authentic or something. Otherwise how could they feel so different?)
You can find more detailed product information
HERE
.
I find the AngelContacts.com is very easy to navigate with nice selections of reference pictures.
Sometimes I find it a little sluggish but not as much as to ruin the pleasure of cruising the site.
And I sure hope to see many more designs from this great online company.
Thanks for reading.
Wish everyone a happy weekend!
This post contains PR samples provided by AngelContacts.com